Thank you for considering a gift for Soroptimist International of Vista and North County Inland and for its mission of improving the lives of women and girls.
We appreciate your support and pledge that your total contribution goes to our community service fund, which supports women and children's programs in the community.
Official website for Soroptimist International
Official website for Soroptimist International of the Americas
Official website for Soroptimist International Desert Coast Region
Some of the Local Groups We Support


Children's Paradise is a place where infants start in a "home away from home" atmosphere and continue on through their elementary school years in an environment where they are encouraged to explore, create, play, and interact to become stimulated and challenged.
North County Lifeline: Project Life assists in rescues of women and girls from human trafficking
Operation HOPE is a temporary winter shelter for homeless families and women. SIV has provided grants for computers for the children for homework and for adults seeking work
Vista Teen Outreach, assisting homeless students in Vista
Welcome Home Ministries, for the Future Achievers in Re-entry program (FAiR), a home in prison where the participants spend their entire time behind bars focused on addiction recovery and working through the past traumas
Veteran's Association of North County, for the Career Transition Assistance Program for military personnel re-entering the job market
Elizabeth Hospice, for grief counseling in schools for children
Hospice of the North Coast is a community based, non-profit organization committed to assisting patients and their families navigate the ever-changing mosaic of healthcare choices.
Solutions for Change is a North San Diego County organization dedicated to solving family homelessness.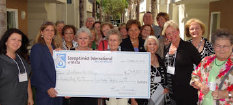 Trauma Intervention Program is an organization with citizen volunteers that respond to traumatic incidents at the request of Police, Fire and Hospital personnel to support those who are emotionally traumatized.

Vista Community Clinic provides health care to mostly under-served North County residents.